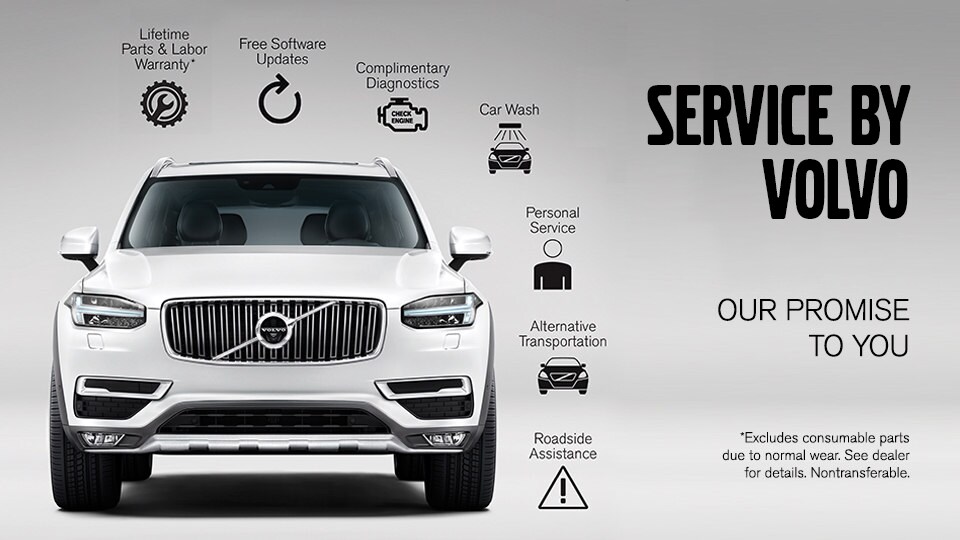 Hours
Monday

7:30AM - 6:00PM

Tuesday

7:30AM - 6:00PM

Wednesday

7:30AM - 6:00PM

Thursday

7:30AM - 6:00PM

Friday

7:30AM - 6:00PM

Saturday

8:00AM - 2:00PM

Sunday

Closed
Only Volvo delivers the service quality and value you deserve. Whether it's our expertly trained technicians, our field-tested Volvo repair methods, or our Volvo genuine parts, we'll help you get the most out of your Volvo. Experience Service by Volvo when you bring your Volvo to an authorized Volvo retailer for service or maintenance
.

Service by Volvo includes:
 

Free software updates

At Volvo, we're always improving. That means, if your Volvo needs the latest software update, we'll make sure it happens at your next service, free of charge.*

 

Complimentary diagnostics

Is your Check Engine or other warning light on? We'll perform a preliminary diagnosis and give you a written estimate of what's needed at no charge and without obligation.

 

Alternative transportation

Rest assured, we'll get you where you need to go whether it's on a shuttle, in a loaner, or a rental. Please note that available options vary by location. See your Volvo dealer for details.

 

Personal service contact

A personal service contact will guide you through the entire service process. They'll answer any questions and help make sure your service experience is everything you want it to be.

 

It's always nice to drive off in a freshly cleaned car. That's why each time you service your Volvo with us, we'll wash it and make sure it looks like the day you first brought it home.

 

Roadside assistance

As a Volvo service customer, you'll receive significant savings on Volvo Roadside Assistance. Even if your Volvo is out of warranty, we'll help 24/7, anywhere in the U.S. See your Volvo dealer for details.

 

Lifetime parts and labor warranty

Enjoy a lifetime warranty on all Volvo genuine parts and labor during any service or maintenance visit.*** This warranty will be covered at any authorized Volvo retailer in the U.S.

 
 
 
 
Here at Ken Garff Volvo Cars, YOU are the most important customer. We are the ONLY Volvo dealer in the area, so we are the obvious choice for servicing your Volvo. Our experienced technicians can perform a variety of services, whether you need a battery, oil change, tune-up, muffler exhaust repair, car brake repair, transmission replacement, wheel alignment, shock or strut replacement, air conditioning maintenance or engine management service, we're here to help. 
Volvo's are one of the safest vehicles on the market. Keep your vehicle safe and ready to go with scheduled maintenance. We can also provide vehicle inspections or car emissions tests. You should choose Ken Garff Volvo Cars because unlike other providers, we know how to work specifically with your vehicle, and will do it at a fair price. We won't try to make you buy things you don't need or want, and our main goal is to provide you with the service you want. Here at Ken Garff Volvo Cars, we hear you!
If you need quality service, look no further than our trusted service center. Each member of our service team is knowledgeable on keeping your Volvo vehicle in top shape. It can be a simple service, such as an oil change or tire rotation. It can also be extensive repairs after an accident to help get you back on the road. When it comes to scheduling your next visit, scheduling online can be both time saving and convenient. Drivers from Salt Lake City can also find our latest deals and offers to save you money on your next trip to see us.
Routine maintenance can help to keep your vehicle operating smoothly and safely. Over time, components such as belts and fluids can wear out and require replacing. Some common routine vehicle maintenance includes general maintenance, checking for warning signs, batteries, oil & fluids, heating & cooling, and your wheel, brakes, and suspension system.
Oil changes are one of the most common types of vehicle maintenance. It helps to cool your various engine parts and lubricate different engine components to slow down on the wear and tear of your engine. Constant heating up of the oil can cause it to break down over time and carbon will build up over time. Having the oil and oil filter changed also gives our service team the opportunity to check out the other systems in your vehicle to make sure that you're running optimally.
Another common set of maintenance deals primarily with your brake system. Sometimes your brake pads will wear out, and brake fluid needs replacement, or sensors go bad. Our technicians can take a look and diagnose your brake system to find the root of the problem.
At the end of the day, understanding how your vehicle works will help you keep it in working order. Your owner's manual will have a full maintenance schedule with recommendations on which components need to be replaced over the life of your vehicle. If you're unsure or have questions on your vehicle, our service team is here to help. You can easily schedule service on our website, so you can conveniently schedule service at Ken Garff Volvo Cars from the comfort of your own home. We look forward to seeing you soon!