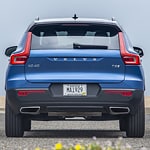 The 2020 Volvo XC40 is a compact sports utility vehicle. It has the ability to get up to 33 MPG. This car is great because it has a variety of exterior features that will make it easier for you to drive. Rain sensors are one of the features that you will be able to find on this vehicle.
You won't have to worry about turning on your windshield when it starts raining. The windshield wipers will automatically turn on when it starts raining. Heated windshield wipers are another feature that will make it will be easier for you to drive when the weather outside is snowy or rainy.
The high heat will melt the snow and ice. You can test out the exterior features when you go to the dealership. If you are interested in test driving the car, then you can make an appointment to go to the dealership today.