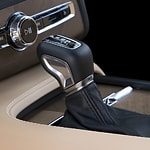 The list of reasons why Volvo XC90 dominates the luxury SUV category is wonderfully long. It has major curbside appeal, handles like a champ, has a roomy cabin, and tons of in-cabin amenities. In the interest of space, our Ken Garff Volvo Cars team decided to shine a brief spotlight on XC90's stellar performance features.
Idling at Salt lake City intersections or in stop-and-go traffic is a major waste of fuel. Volvo XC90 boasts Stop/Start Technology that shuts down the engine momentarily when you come to a full stop. When you resume driving, the engine restarts promptly, saving fuel.
We love everything about Volvo XC90's manumatic transmission. It combines manual and automatic, using microprocessor-controlled gear ratios and shift paddles operated by the driver. The paddles are near the steering wheel, making for more seamless, no-lag shifting. Plus, the eight-speed, multi-gear model creates more seamless acceleration and deceleration.